Are Your Center Pivots
Stuck in A Rut?

Over the last 15 years, Agri-TRAC Inc. has been able to provide the farmers with tough, long-lasting TRAC that allows their pivots to keep moving. Thousands of farmers worldwide have experienced the benefits of Agri-TRAC on their farm. Here's why:
Center pivots often get stuck during the time of the season that they are needed most. If you don't get water to your crop in a timely manner during the heat of the day, you could severely damage your crop, causing low yields and cutting deep into your bottom line. Don't waste your time with straw bales and unnecessary destruction of the crop. The Agri-TRAC can allow you to sleep better at night knowing that your pivot will continue to move, even through the toughest spots.
The increased surface area and traction of the Agri-TRAC make it so your pivot will NEVER get stuck. The Agri-TRAC easily handles heavy soil, mud bogs and even hillsides. It allows center pivots to be located in places where they could not run otherwise.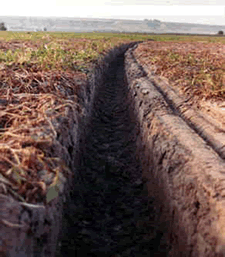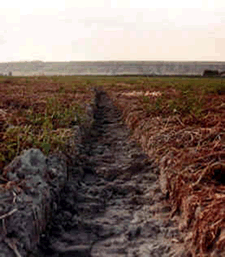 Compare Agri-TRAC Flotation and Traction to Bare Tires
| | Surface Area | Soil Pressure | Tread Length | Surface Shape |
| --- | --- | --- | --- | --- |
| Agri-TRAC | 430 sq. in. | 3.9 psi | 88 in. | Concave |
| 11.2-24 Tire | 88 sq. in. | 19.8 psi | 14 in. | Convex |
| 14.9-24 Tire | 140 sq. in. | 12.1 psi | 18 in. | Convex |
| 11.2-38 Tire | 168 sq. in. | 11.2 psi | 18 in. | Convex |